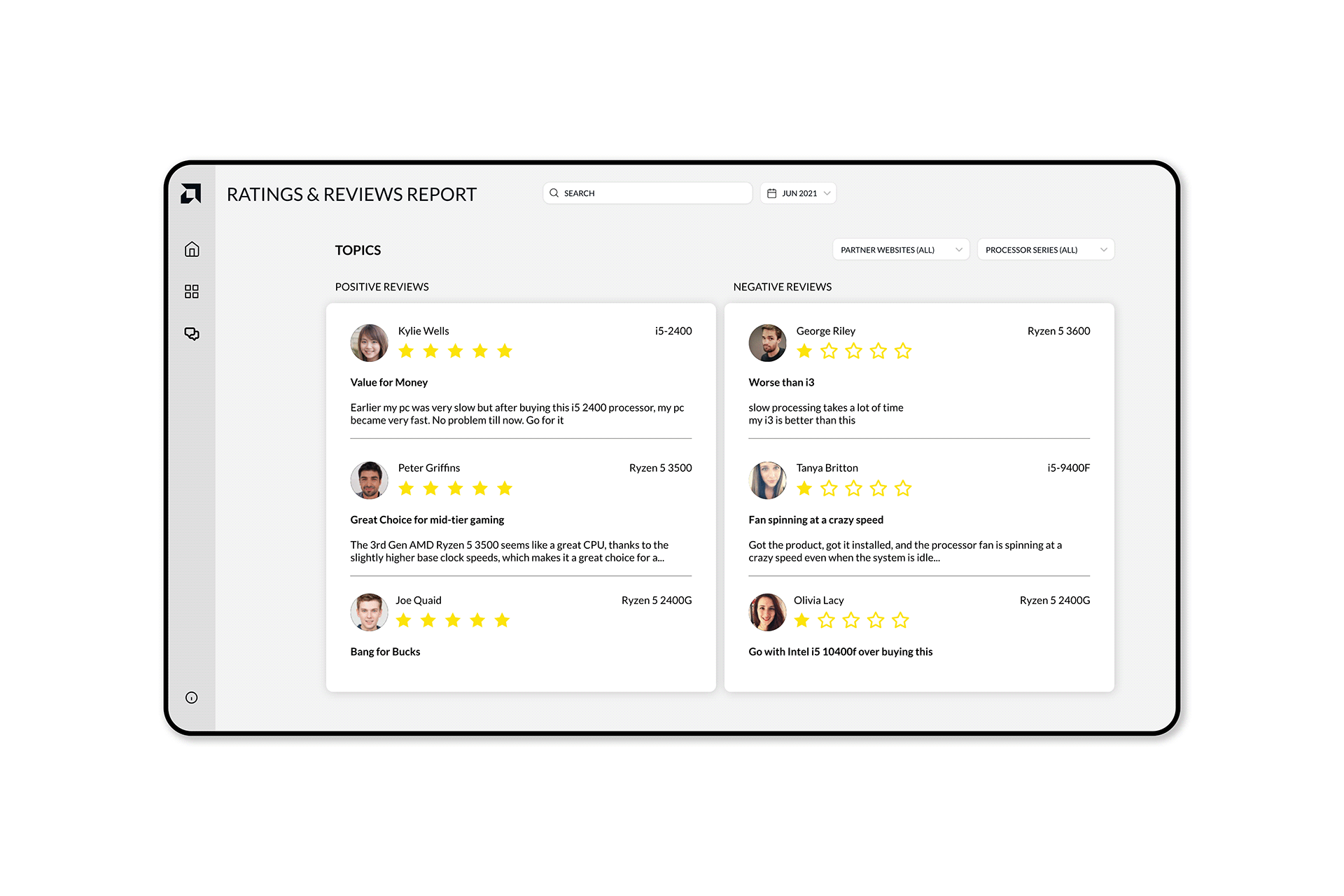 The Ratings and Reviews report is a competitive intelligence report created for AMD. The purpose of this report is to compare the ratings and reviews of various AMD processors with Intel counterparts as provided on various e-commerce websites. The information is usually consumed by the dashboard by mid-senior level managers responsible for keeping track of the listings on the e-commerce websites. The dashboard aims to solve the below.
Get actionable insight on finding how the processors perform on the e-commerce websites in various regions vis-à-vis Intel.
Monitor the sentiments of the reviews to further understand if the consumers are optimistic (or otherwise) about the product.
Understand the reason behind the positive and negative reviews by examining the various discussions around the products.
To also see in verbatim, what the consumers are talking about the product.
The average time spent by the users to view this report is about fifteen minutes unless they want to drill-down on the metrics. The idea is to bring all the information under single views without compromising on the quality. The idea is to also allow users to view and understand information without taking the effort of navigating through too many pages. The dashboard shall also allow users to slice & dice the information into snippets that they are interested in thus allowing them to interact and come to the correct information in the most swift manner.
The Dashboard is divided into three sections. i) Average Ratings & Sentiments, ii) Review Topics, and c) Top Reviews.
The Average Ratings and Sentiments could be viewed by i) Comparing across Processor series, and ii) Comparing across Partner Websites.
The Review Topics could be viewed as per the processor series as well as by partner websites.
The colours were selected on the basis of the metrics, i.e. Intel and AMD metrics were assigned certain colours to subtly recall their brand identity. The blue and red were chosen to represent the positive and negative sentiments due to their semantic properties. The yellow for five star ratings was chosen for its ubiquitous character.